Research Department Achievements
January-September 2020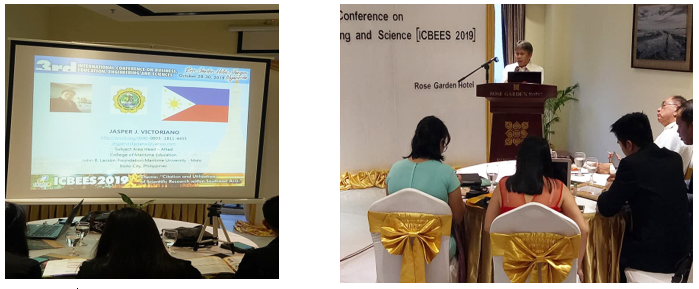 Dr. Jasper Victoriano presented a paper entitled "Utilization of Stakeholders'  Satisfaction Results of Maritime University in Asia" at the 3rd International Conference on Business, Education, Engineering and Sciences on October 28-30, 2019 in Yangon, Myanmar.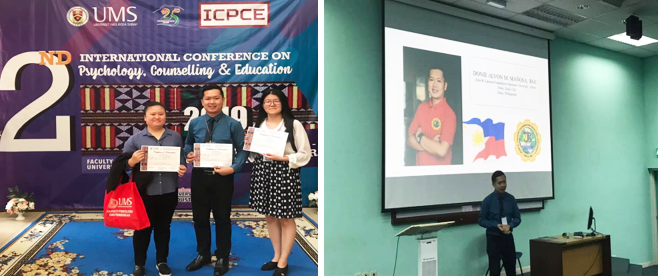 Donie Alvon Mañosa presented a paper entitled "A Proposed Module for the Development of Resiliency among the Company-Sponsored Cadets at JBLFMU-Molo" at the 2nd International Conference on Psychology, Counselling and Education on October 31-November 2, 2019 in Sabah, Malaysia.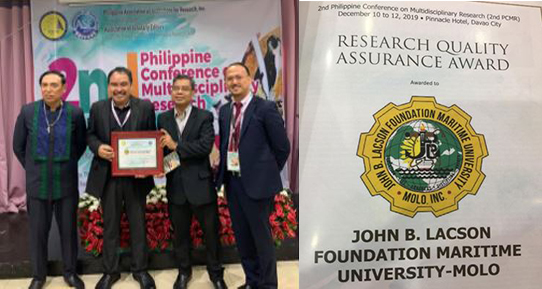 Dr. Rolando Alimen and Dr. Victor Jaleco received, on behalf of the school, the "Research Quality Assurance Award for JBLFMU-Molo" and "Article Citation Awards" for SY 2019-2020 at Pinnacle Hotel, Davao City on December 10-12, 2019. At the same event, Dr. Victor B. Jaleco presented the study entitled "The Unthinkable: Phenomenological Approach to the Experiences of the Survivors during the Iloilo-Guimaras Strait Sea Tragedy" and Dr. Rolando Alimen presented the study entitled "Corporate Social Responsibility: Pathway towards Excellence in Maritime Education and Training." Both studies will be published in the International Journal.
As part of the JBLFMU Foundation week celebration, the JBLF System conducted a Research Colloquium and Sharing of Best Practices. From the molo unit, Mrs. Dona Jean Castigador presented her paper entitled "Role of Laboratory Trainers in Enhancing Drawing Skills: Experimental Study." For the best practices, 3/E Allan Roberto shared "GO PLICKERS: Utilizing a Student Digital Response System as Formative Assessment."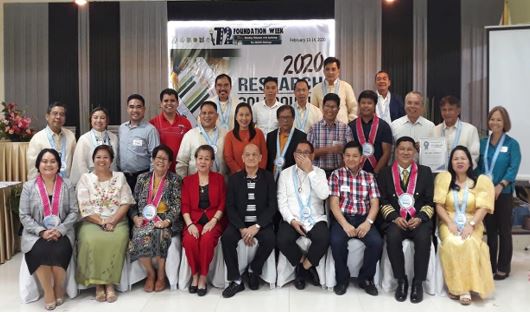 During the said event, "Research Achievers" were also recognized. The following are from Molo unit:
Dr. Rolando Alimen
Dr. Victor Jaleco
Dr. Jasper Victoriano
Dr. Angeli Sebastian
Dr. Zima Tarantan
Engr. Salvador Francisco
Dr. Cicero Ortizo
Engr. Lyndre Bito-onon
Mr. Ronald Baynosa
Mr. Rudy Perez
Mrs. Louise May Lim
Dr. Nilo Ortega
Research Department Achievements (December 6, 2019)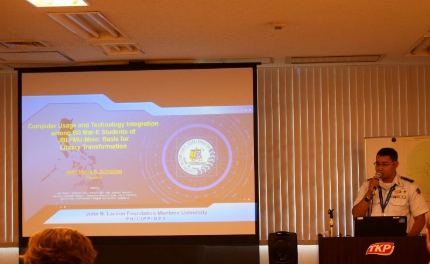 John Henry Sombong, a Marine Engineering student, represented JBLFMU-Molo at the International Association of Maritime Universities (IAMU) Annual General Assembly-Student Category in Tokyo, Japan on November 1, 2019 with the paper entitled "Computer Usage and Technology Integration among BS Mar-E Students of JBLFMU-Molo: Basis for Library Transformation."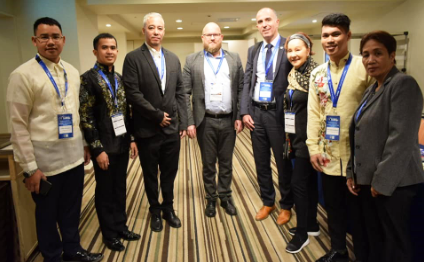 ABSTRACT OF RESEARCH OUTPUT  SCHOOL YEAR 2019-2020 
  
Profile of First Year BS Cruise Ship Management Students  
at JBLFMU-Molo, Inc. 
 
Febe Rose L. Torres 
  
Abstract 
 This survey study determined the profile of first-year college Bachelor of Science in Cruise Ship Management students in John B. Lacson Foundation Maritime University-Molo, Inc. conducted on April 2019. The study surveyed 274 (90%) students enrolled in the second semester of the school year 2018-2019. The researcher-made data-gathering instrument was used. Frequency counts and percentages were the statistical tools employed. The findings revealed that generally, the first-year college students are females, younger, and single. Most of the first-year college students' parents are married; with more than three siblings; most of them do not have siblings who are working, and with one to two siblings who are studying. Majority of the first-year college students are not involved in community organizations and in general, majority of them have social media and always use it. Most of them also play online games/gaming but do so sometimes. A large majority of the first-year college students get out with friends sometimes. Many the first-year college students are without scholarship and are not on the dean's list. Only a small number are working students. They study below five hours daily, work on household chores below five hours daily, and work on assignments and projects below five hours daily. Majority of the college students are financially supported by both of their parents with the daily allowance of below Php 500. The average monthly income of their parents is below Php 20,000 with the father having below Php 10,000 and the mother also below Php 10,000 average monthly income. Some students are supported by their relative or sibling who have an average monthly income of below Php 10,000 and mostly give below Php 5,000 to the student as financial support. Very few of the first-year college students have scholarships and also a small percentage belongs to the dean's list. Most of the scholarships are from CHED and other CHED-sponsored scholarships that are not offered by JBLFMU. A large majority of the first-year college students are willing to join a cruise experience in the future and to be funded by their parents' income and are also willing to start paying for the said cruise on their second-year college.