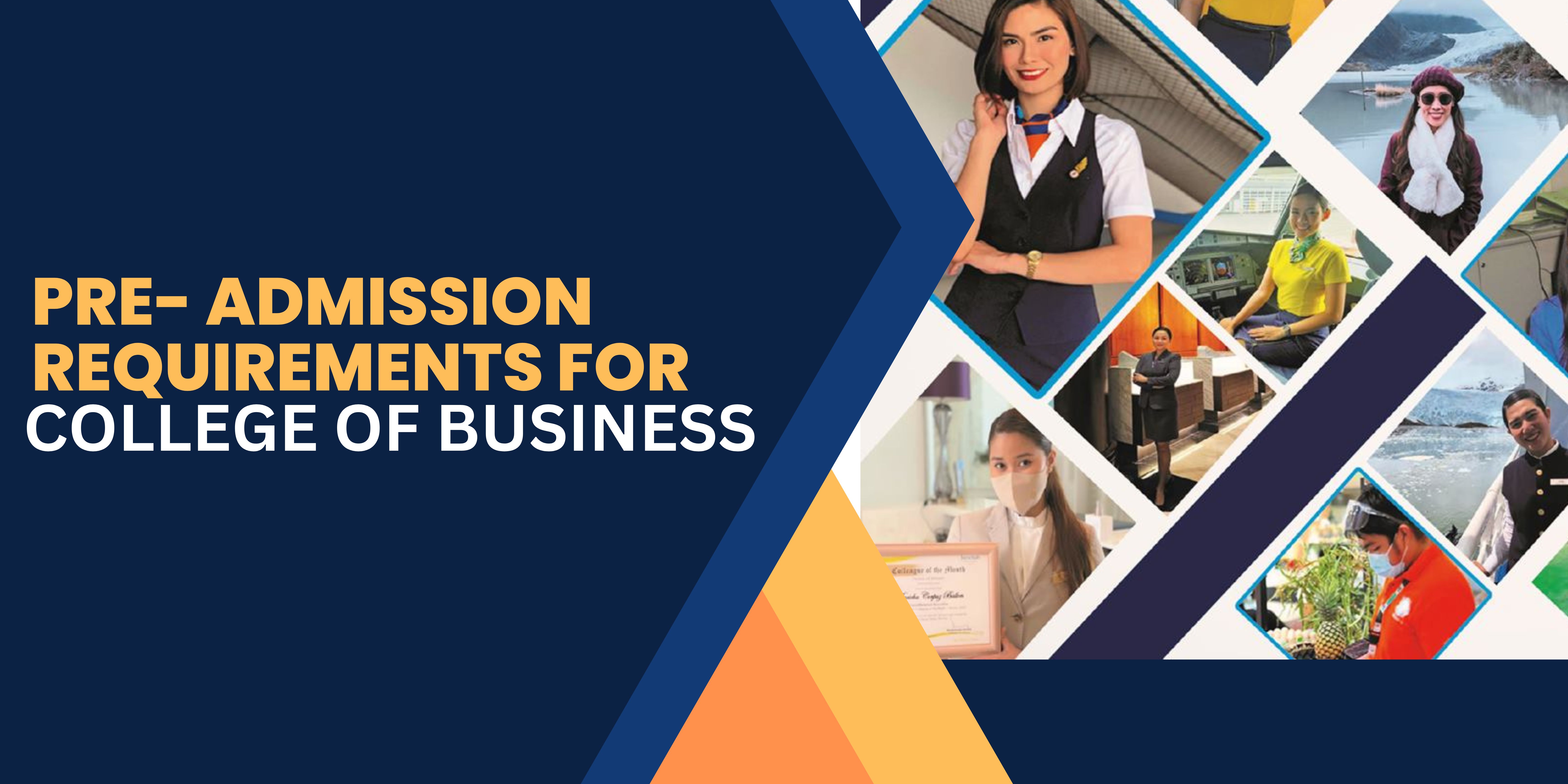 1. Senior High School Graduate
2. Passed the Entrance Exam
3. Good scholastic record as reflected in the Form 138-A/ Transcript of Records or its equivalent transfer eligibility duly signed by the Principal or Registrar of the school last attended.
4. Hepa-B Test (HRM and CSM)
5. Certificate of Good Moral Character

Note: Registration or enrollment in absentia for all First Year students or transferees is not allowed.
ACADEMIC REGULATIONS
Transferees
All transferees from other schools with acceptable average grade and have met the entry requirements are qualified to enroll.
Cross Enrolment
Cross enrollment is allowed only for graduating students whose requisite subjects are not currently offered in the Unit subject to approval of the Dean and the Registrar.
Foreign Students
As per Manual of Regulations for Private Schools, 4th. Edition, p. 133, "no student coming from a school in a foreign country shall be admitted without the prior authority from the Commission on Higher Education (CHED) for college students and the Department of Education (DepEd) for the high school students". In addition to the conditions for admission of a foreign student into any degree program provided by law and the policies and rules of the Commission, it must be shown that the foreign student has the means sufficient to support his education or study in the Philippines (Sec. 82, p. 61 of the CHED Manual of
Regulations for Private Higher Education, 2008).
Summer Classes and Summer Studies in Other Institutions
A summer class is open to irregular students who have failed courses in the previous semester or to those who wish to take advance courses with the intention to become a regular student or to graduate on the succeeding semester.
Only a maximum load of nine (9) units is allowed.
HELLO THERE WANNA- BE LACSONIANS! PLEASE SEE CONTACT DETAILS OF OUR CAMPUSES FOR FURTHER INQUIRY.